Want LASIK but suffer from seasonal allergies? It may surprise you to find out that allergies are not a LASIK candidacy issue.
In fact, if you wear contacts and have allergies, this is one of the best reasons to consider having LASIK! Keep reading to learn more about the reasons to think about having LASIK before allergy season this spring!
What's the deal when it comes to allergies and LASIK?

Allergy season comes around every season, and with it, you get the usual suspects like itchy, watery eyes, a stuffy nose, and general misery. Sound familiar?
If you also wear contact lenses and suffer from allergies, you're making your life a lot more difficult than it needs to be. See, you're perpetuating a cycle of having pollen all over you.
After all, during allergy season, it's not uncommon to find pollen in your hair, on your clothes, or even on your dog! That's why it shouldn't surprise you that it can also get on your hands.
The problem with that, of course, is that when you get pollen on your hands, there's a good chance it will get in your eyes. How, do you ask?
Well, think about how many times per day you spend touching your face, nose, or hair, and there's your answer. Now, consider the fact that you also may need to adjust your contacts during the day if you're wearing them.
If you've got pollen on your hands and then you've touched your contacts, now there's a very good chance that there's pollen in your eyes and on your contact lenses. If you do get pollen on your contacts, now you may suffer an allergic response, resulting in your eyes getting irritated.
The easy solution? Don't wear contact lenses during allergy season.
Consider LASIK if you're tired of allergies and contacts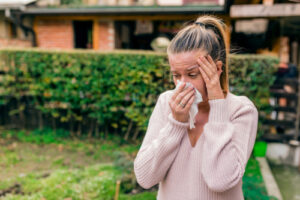 For most people, the easy solution of not wearing contact lenses during allergy season is simply not feasible. This may be because you don't like how you look in glasses.
Or you may have lost your backup glasses, making it impossible to wear them if you needed to. For better or worse, you're stuck wearing contact lenses during allergy season! Or are you?
If you qualify for LASIK, you don't have to be. Although there are a lot of candidacy factors taken into consideration during a LASIK consultation, allergies aren't one of them. Your age, the strength of your prescription, if you have a stable prescription, and if you're currently pregnant are all things that are.
The first step is finding out if LASIK is right for you. Because if you're not a good candidate, you can't undergo the procedure. That's the first and most important step.
If I'm a LASIK candidate, when should I have LASIK?
Since the topic at hand is allergy season, ideally, having LASIK before allergy season truly begins is your best bet. One of the best things about this vision correction procedure is the fact that it doesn't take very long to recover once you've had it.
If you're picturing yourself lying in bed for months convalescing, it's nothing like that. On the first day, you'll come back after having LASIK and will want to rest. This is the best possible thing that you can do if you want your eyes to heal quickly.
Some patients find that their vision improves almost immediately, while other patients may need a few days. It does depend on the patient, so if it takes a week before your vision seems clearer, that's normal.
No matter how long it takes, you will notice that your vision improves, and it's a big difference. It's a lot like being able to see in HD, but so much better!
Colors are more vibrant and the world is sharper. It's like being able to see the world the way it was always meant to be seen. Being able to recover before your allergy symptoms begin bothering you is smart.
You won't have to worry about watery eyes or other allergy symptoms. If you want to recover from LASIK at another time, wait until after allergy season is already over.
Do the results from LASIK last forever?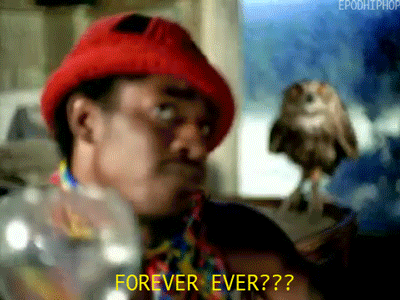 Although you may have heard otherwise, LASIK is a permanent procedure. That means that if you have LASIK in your mid to late twenties, you're looking at decades of clear vision ahead of you!
And for the allergy sufferers out there, that means your allergy symptoms will be massively improved for the rest of your life. For anyone that has allergies and their maddening symptoms, having them improve is a godsend.
This is one of the many ways that LASIK will make your life better. Don't believe us? There's a reason why this procedure has an incredible 96% success rate with patients that have had it.
Whether you're looking for visual freedom from glasses and contact lenses or you're simply looking for a way to save money, LASIK can help you achieve it. One thing you should know is that LASIK is not a miracle, so it doesn't treat future vision problems.
That means that if you think you'll never develop cataracts, glaucoma, or presbyopia, you're sadly mistaken. LASIK can only treat refractive errors like nearsightedness, farsightedness, and astigmatism.
Being able to treat these refractive errors is pretty close to a miracle and will improve your life significantly!
How can I find out if LASIK is right for me?
If you love the thought of LASIK, all you need to do is schedule a LASIK consultation. Keep in mind that this is the only way to find out if you're a LASIK candidate or not.
If you qualify for the procedure, you'll spend your consultation discussing financing, how you'll pay for the procedure, and if you'll be scheduling it right away.
Ready to find out if LASIK is right for you? Schedule your LASIK consultation at Chicago Cornea Consultants™ in Chicago, IL, today!
If visual freedom has seemed like it's out of reach for you because of your allergies, why not get answers when it comes to LASIK?