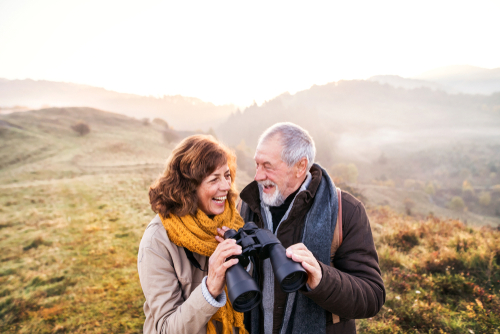 Cataracts can make your vision misty or blurry. Many patients with cataracts say it's like looking through frosted glass.
Cataracts are totally treatable! Leaving them untreated can lead to blindness, however.
Although cataracts develop because of aging for many people, they can also appear at all ages. Usually, cataracts develop gradually over many years.
You may not realize you have cataracts at first. Cataracts aren't painful, and they won't make your eyes irritated or red.
You can have cataracts in both eyes, but they might not be the same in every eye or occur at the same time. Each person is different, meaning how their cataracts develop and the speed that they progress won't be the same.
That means you may realize that you can see more clearly in one eye than the other.
Are Cataracts Dangerous?
Cataracts aren't dangerous to your eye health unless they turn completely white. This is a condition referred to as a hyper mature cataract.
Hypermature or overripe cataracts can cause headaches, sudden pain and redness in the eye, and increased blood pressure.
Cataract Diagnosis
Cataracts are usually detected during a routine eye exam. This is why it's crucial to have them when your ophthalmologist recommends it.
When it comes to cataract treatment, if yours are mild, brighter reading lights and stronger glasses can help at the beginning. But most cataracts get worse with time.
It's likely you'll eventually need surgery, the most effective treatment for cataracts. Surgery is normally recommended if cataracts interfere with your everyday activities.
This may include things like reading and driving. It's the most commonly performed medical procedure. During cataract surgery, you'll have the natural lens removed.
It is then replaced with an artificial lens, known as an intraocular lens or IOL. This allows you to see clearly once more.
Cataract Treatment for Both Eyes
Usually, it's not recommended to have cataracts treated in both eyes at the same time. This is because it can take several weeks before your eyes heal.
Having both eyes operated on at the same time would leave you in a compromised situation with your vision. With other surgeries, there are risks of complications, including post-op infection.
If you have cataract surgery on both eyes at the same time, you may find yourself with limited vision while dealing with issues in both eyes. The eye doctors at Chicago Cornea Consultants™ recommend only having one eye done at a time.
This allows you to heal fully before receiving treatment on the other eye.
What Can You Expect After Cataract Surgery?
Even if you have lived with cataracts in both eyes for a while, your vision may be unstable after cataract surgery. This does not mean the procedure was unsuccessful.
It may occur because both eyes must work together to form the ability to see. Even with the blurriness that cataracts cause in both eyes, treating one eye will interfere with the harmony.
The good news is, the clouding after cataract surgery in one eye should resolve fast. During recovery, your doctor will recommend you slow down to prevent avoidable accidents.
Improving Your Vision Is Our Passion
At Chicago Cornea Consultants™ cataract surgery is performed by board-certified cataract specialists and ophthalmologists. As leaders and pioneers of proven, cutting-edge medical technology, our surgeons are dedicated to helping you achieve the best vision possible.
Considering cataract surgery? Schedule a cataract screening at Chicago Cornea Consultants™ in Hoffman Estates, IL now!