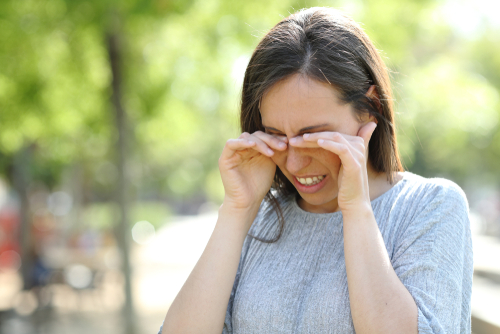 Are you thinking about having LASIK? Are you worried that it will hurt?
A common worry is that LASIK eye surgery will hurt. There's really no need to worry!
Understanding what happens during LASIK helps patients remain calm and stress out less. Keep reading to learn more about LASIK and why it's not painful!
Pre-LASIK
Before the procedure starts, the surgeon starts by putting numbing eye drops in your eyes. If you have ever used normal eye drops before, numbing ones feel and look the same.
The numbing eye drops work as you blink. By blinking, the drops can move over the surface of your eye. You should not feel any discomfort due to the numbing drops.
Since these eye drops numb your eyes, they are important. They keep you from feeling any pain during LASIK eye surgery.
For the next few hours, your eyes will be numb. The drops last for several hours after LASIK and then start to wear off. They will keep you pain-free during LASIK.
If you are anxious before having LASIK, your doctor may recommend something to relax. This may be a prescription like Valium. Using a medication like Valium makes it easier for anxious patients to relax and stay calm.
Communicate with your doctor if you are nervous. They can help calm your nerves and get a prescription for you if necessary.
During the Procedure
To lift and hold your eyelids during LASIK, your doctor will use a tool called a speculum. Your eyelids are not numb when they use the speculum.
You may be able to feel the speculum but it is not painful. It feels like your eyelid is being pulled away from your eye. It is a similar sensation to how it feels when you have contacts in.
You may feel some slight pressure but this only lasts for a few seconds as well.
Post-LASIK
After LASIK, your eyes might feel uncomfortable as the numbing eye drops wear off. It is also normal if you feel a burning sensation.
Also, it is common for your eyes to itch or be watery. Your eyes should not be in great pain.
Don't be surprised if your vision is blurry or cloudy after you have LASIK. This is completely normal. Immediately after LASIK, it is normal for your vision to be foggy and not completely stable.
It takes a few days for your vision to start to stabilize. Also, it is very common for patients to have dry eyes right after having LASIK.
Dry eye is one of the most common side effects patients experience when they have LASIK. It is temporary but you may experience some discomfort because of it.
If you cannot tolerate it, reach out to your doctor. They can prescribe you eye drops to help relieve any discomfort.
All these sensations and feelings are normal and part of the recovery process.
As your eyes heal, they will go away. Post LASIK, you should not have any pain. Contact your doctor immediately if you have pain. Pain can be a sign of a complication or infection after you have LASIK.
Is it time to find out if you're a good LASIK candidate? Schedule a LASIK consultation at Chicago Cornea Consultants™ in Chicago, IL today!
If you've ever wondered if life would be better without glasses or contacts, why not find out more about LASIK?